7-Inch Android 6.0 car navigation for Volkswagen support External DAB+ Box (V0054) without CD/DVD fu
7-Inch Android 6.0 car navigation for Volkswagen support External DAB+ Box (V0054) without CD/DVD fu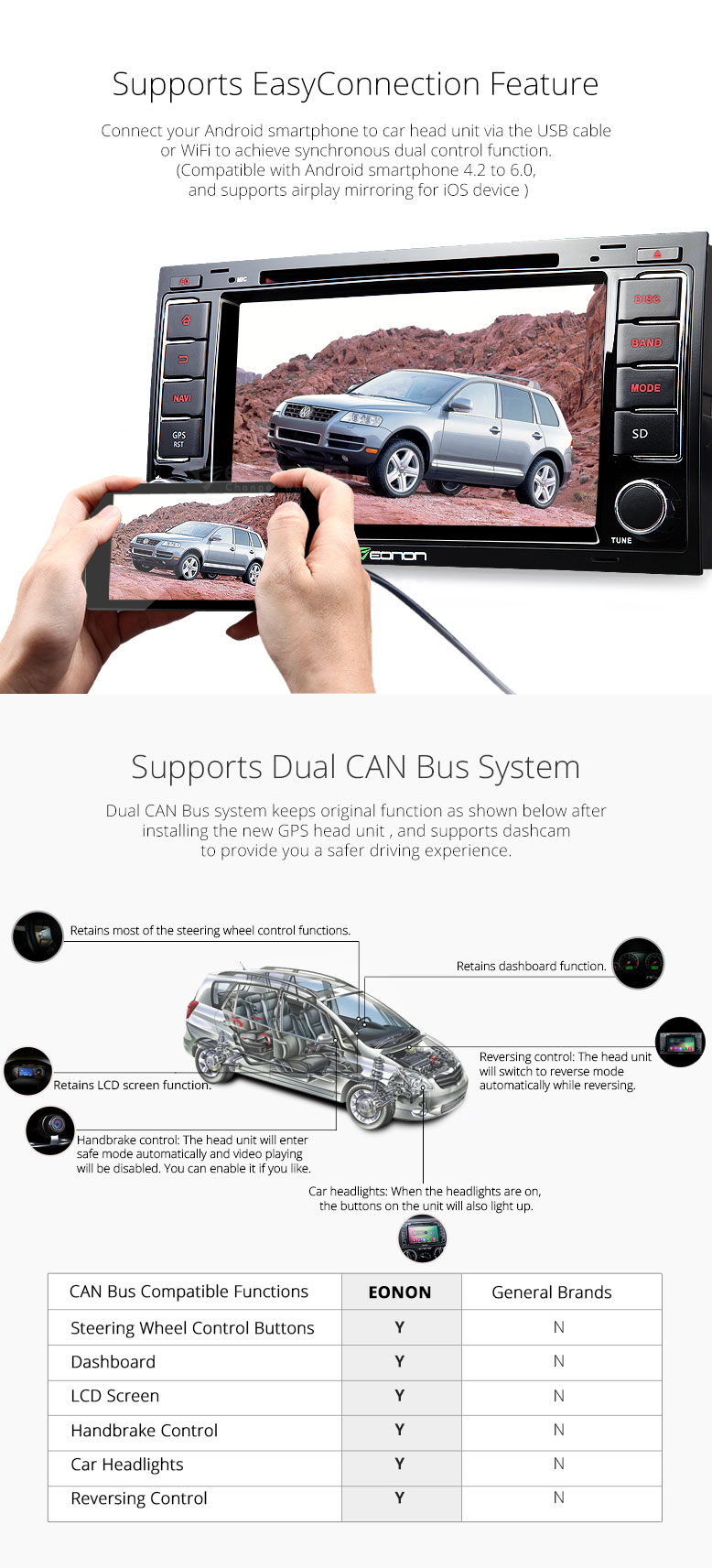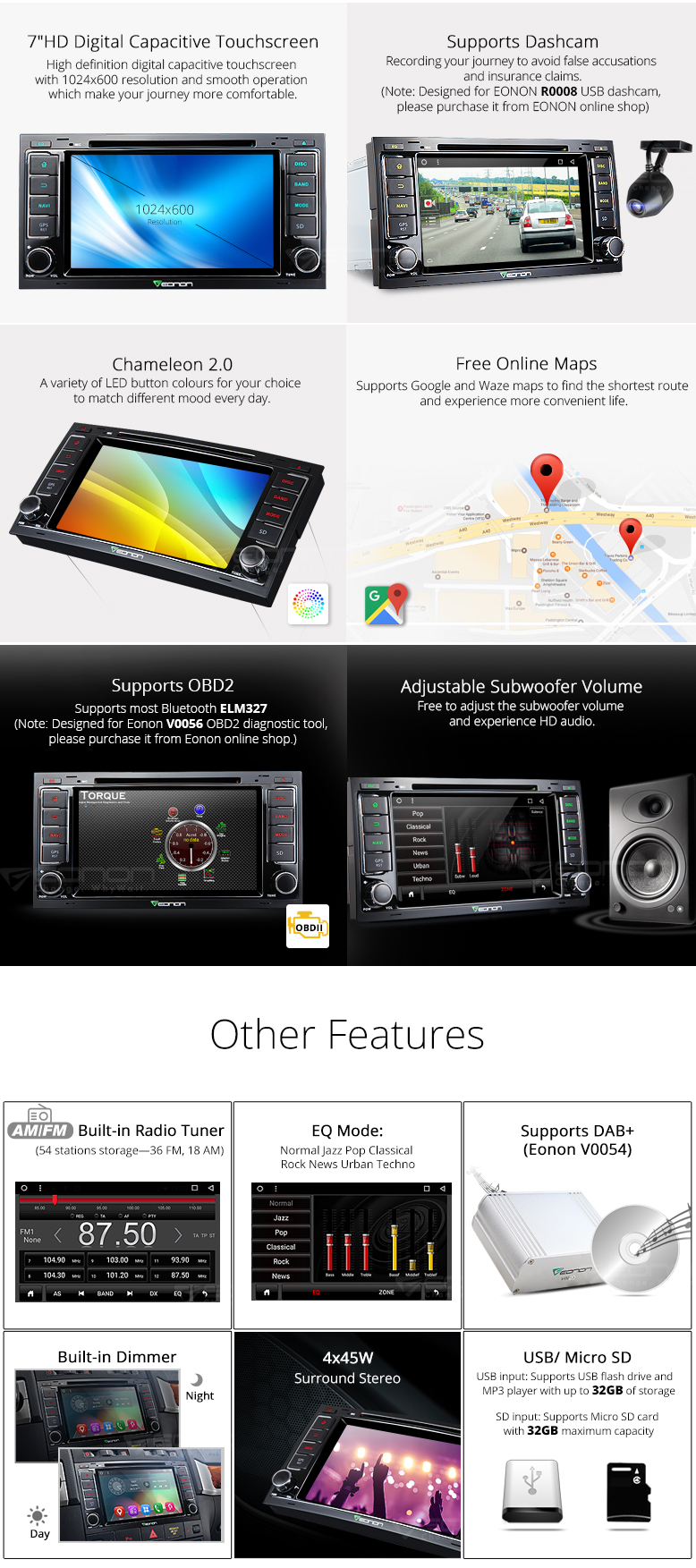 Specifications:
1.Android Marshmallow 6.0
The new upgraded system with extraordinary experience
12GB storage for apps
Unlike previous Android 5.1 or 4.4 units only have 1GB or 2GB allocated for installing apps, there are 12GB (approximately after deducting Android system files) for Android 6.0 unit now! You can easily install as much as apps, or store any files you like in the unit without worrying running out of space. It definitely provides you much more possibilities and entertainment!
Storage for apps
Android 6.0 Units 12GB
Android 5.1 Units 2GB
Android 4.4 Units 1GB
 RAM manager: Better memory management with faster and smoother experience.
 App permissions: Supports to manage different permissions for each application to improve system security.
 Quick settings: The new settings interface with more shortcuts.
- CPU : Allwinner R16 1.8GHz Cortex A9 Quad-Core
- RAM : SAMSUNG DDR3, 1GB
- Storage : 16GB
2. Supports Bluetooth
- Supports Bluetooth music player, display information of song and singer
- Supports Bluetooth phone book and search contacts rapidly to free your hands
3. Supports Video Output from All modes
GA7202 supports video output from all modes like YouTube and Spotify to provide your family diverse experience.
4. Supports EasyConnection
Connect your Android smartphone to car head unit via the USB cable or WiFi to achieve synchronous dual control function. (Compatible with Android smartphone 4.2 to 6.0, and supports airplay mirroring for iOS device )
5. Supports Dual CAN Bus System
Dual CAN Bus system keeps original function as shown below after installing the new GPS head unit , and supports dashcam to provide you a safer driving experience.
 Retains most of the steering wheel control functions.
 Retains dashboard function.
 Handbrake control: The head unit will enter safe mode automatically and video playing will be disabled. You can enable it if you like.
 Reversing control: The head unit will switch to reverse mode automatically while reversing.
 Car headlights: The buttons on head unit will light up after turning on the headlights.
 Supports parking sensor( Note: available for vehicle equipped with parking sensors)
Distance between the car and obstacles can be displayed on the head unit screen and there will be a sound prompt while reversing. After installing the rear-view mirror, you can view the reversing video and parking sensor information on the same screen.
 Display air conditioner information
The information of Left/Right AC temperature, seat temperature, fan speed and AC status can be displayed on the head unit screen.                                         
 Security alert
To ensure safety, the head unit screen will remind you when the door or trunk is not closed.
 Display reversing trajectory
According to the direction of steering wheel, the reversing trajectory can be displayed on the head unit screen to provide you a safe parking guide.
Lägg till en bevakning så meddelar vi dig så snart varan är i lager igen.