DVD/GPS till SAAB 9-3
SAAB 9-3 Car GPS Navigation HD Screen Radio DVD BT USB + Navi Map + Digital TV + Rear Camera + Parking System
DVD/GPS till SAAB 9-3
SAAB 9-3 Car GPS Navigation HD Screen Radio DVD BT USB + Navi Map + Digital TV + Rear Camera + Parking System
Innehåller:DVD/CD-spelare,Mobiltelefonfunktio (blåtand),MP3-spelare, Radio, Touch Screen, TVPlacering:I instrumentbrädanTillverkningstyp:OEMModellnamn:RF-F53537Upplösning:800*480 pixlarBilmodell:SaabOSD-språk:EngelskaStöder formaten:Mp3,Mp4,WMA,JPEGFärg:SvartDisplaystorlek:6.5",7",8"Strömförsörjning:12VoltMonteringsdetaljer:Inkluderade, "plug and play", behöver ej skära av kablarBluetooth:Hands free-funktion, musikRattkontroll:Originalfunktion kvar även efter installation
Produktbeskrivning
6.2" Digital LCD-monitor till bil, med Touch Screen, Radio, BT, USB, SD/WinCE 6.0 /All-in-one Multi Zone System
För snabb leverans, vänligen ge oss följande detaljer vid beställning:
1) Bilmodell och tillverkningsår
2) Huruvida instrumentbrädan är densamma såsom i våra bilder nedan.                                              

Ingår/kan köpas till: (1)Original OEM Bil-radio/ Skärm / DVD / GPS installationsstomme (2)GPS-navigation & DVD-spelare & HD Touch Screen + Radio AM/FM + Bluetooth musik/telefon + USB-port + TF Slot (3)4GB IGO Navi kartprogram på SD-kort (2012 version) (4)DVB-T MEPG-4 / ISDB-T Digital HD TV-mottagare (tillägg) (5)Backkamera (vidvinkel & infraröd) (optional) (6)Parkeringssystem med radar  
OEM Custom Designed Custom Made Direct Factory Replacement for Its Exiting Fitted Stereo   1) High definition TFT LCD. 2) Touch Screen 3) Steering wheel control: realize the original wheel steel control without any modification. 4) Electronic & mechanical anti-shock system 5) DVD player: Play DVD/VCD/CD/MP3/WMA/JPEG/MPEG4 etc. discs 6) Built-in GPS. 7) Bluetooth & Ipod connection 8) external DVB-T box optional 9) USB/SD /CDCport: support U disk MP3WMA audio play and picture browse etc. 10)Reversing display: Connected to rear camera to watch the reversing status. 11)Dual zone function: drive can listen to music while viewing the map 12)Remote control: full function infrared remote control   Special Notice: This unit is the Refitting Frame together with a universal DVD & GPS System. There is a standard European ISO Power cable with this player, so usually you need to cut the power cable of original CD player to connect with our unit.  We suggest you to ask a professional installer to help you to install this unit.   Feature: Language: Turkish, English... Picture in Picture fucntion Dual Zone function, listening to Radio/watching GPS image in the same time Display7 inch 16:9  800*480pixes digital TFT   DVD Section: Disk Compatibility Supports DVD/VCD/CD/MP3/MPEG4/CD-R/WMA/JPEG Media Compatibility Supports DVD/DVD-R/DVD+R/DVD-RW/DVD+RW/CD/CD-R/CD-RW/MP3/MP4(DIVX)/VCD/SVCD   GPS Section: Operation systemWindows CE6.0 Supported mapsIgo, Route66, Tom-Tom, Supports 3D Maps ChipsetSiRF STAR III  GPS antenna frequency 1575.52MHZ GPS LanguageEnglish/Francais/Polish/Espanol/Deutsch /Italiano/Arabic...   Bluetooth:A2DP Microphone built-in, Phone book TV TUNER:Built-in Analog TVNTSC, PAL-B/G, PAL-I, PAL-D/K,PAL-M,PAL-N ,SECAM-DK PLL Frequency Synthesizer System   Radio:AM Frequency Range:522-1620 (Europe/China),530-1710 (America)          FM Tuning Range: 87.5-108 (Europe/China), 87.5-107.9 (America) 30 stations storage, Usable Sensitivity5dBV(S/N=30dB)   Amplifier4*45 Watts   Audio & Video Input/Output:Aux Video Input1 Aux Audio input1 Video Outout2 Audio Output4 ( FR/FL/RR/RL) Camera input1 (Auto rear view) Radio Aerial input 1 TV Antenna input1   Audio Section:  1) Rated Output4ch*3W  2) Maximum Power Output 4ch*50W 3) Rated Speaker Impedance4 4) Pre-AMP Output Voltage2Vrms5) Pre-AMP Output Impedance<220 7) Video1 Vp-p(75) 8) Audio500mVrms                                  Support Audio typeMP3/PCM/WMA  Support Video TypeASF/AVI /WMV /DIVX   Port1 USB port 2 SD card port, 1 for Music/movie, 1 for GPS   Package: 1 x Multimedia DVD Player 1 x 4GB GPS Navigation Map Card 1 x User Manual ( english ) 1 x GPS antenna ( GPS function ) 1 x Power Cable 1 x AUX Cable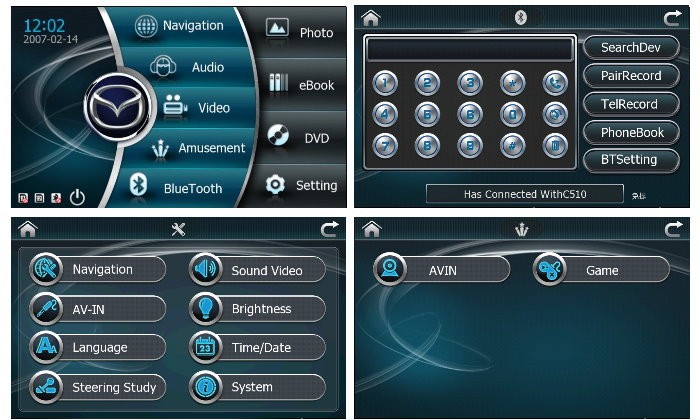 4GB Storage Card and GPS maps (including USA, Canada, Mexico; All Europe Countries; Australia& New zealand; Brazil & Argentina; Gulf Areas,  Egypt,  Israel; Malaysia, Singapore, Thailand, Indonesia; India. only one region maps would be included into 4G SD card) GPS Sofware is cracked version with latest hight definition (800*480 Resolution)  map preloaded upgraded by us directly. If you need the original GPS Sofware and map with its license to upgraded online, please inquiry for additional cost first.  
   Car Rear View Camera  
      Car 4 Radars Parking System  

  Digital TV Receiver , DVB-T (MPEG-2 / MPEG-4) / ISDB-T MPEG-4 / ATSC : DVB-T is an abbreviation for Digital Video Broadcasting. Notice that DVB-T is available in some countries. Before you add it to your cart, youd better make sure that your place is in the countries and territories using DVB-T. Here is a map of countries and territories that are using DVB-T.   

Lägg till en bevakning så meddelar vi dig så snart varan är i lager igen.